Winobranie Wine Festival
It is the biggest wine festival in Poland. Each year, it takes place in the first part of September.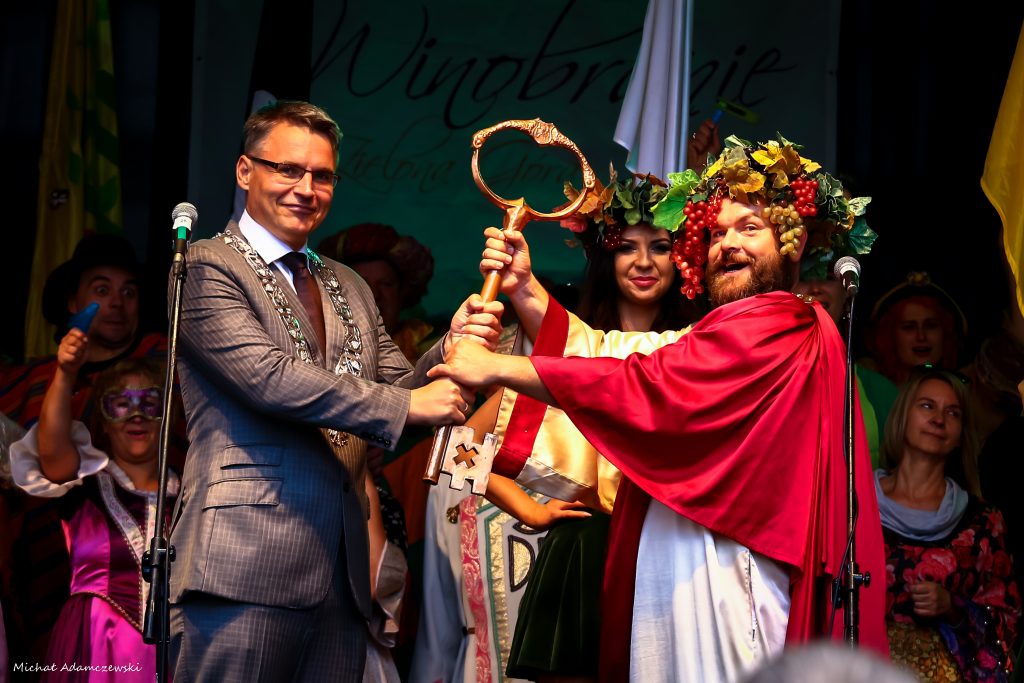 During the Winobranie Wine Festival week, Bacchus, the god of wine and a symbol of Zielona Góra, gets the keys to the city and thus takes a power over it. Under his supervision, Zielona Góra becomes a stage full of attractions, such as concerts, open-air games, sports and cultural events.
Fair, concerts and… the wine town
Every year, the programme is also filled with various accompanying events. The Winobranie Wine Festival Fair organised in the pedestrian area is an important point as well. Additionally, there is the so-called wine town located around the town hall where local winemakers present their products. The Festival of Winemaking Tradition – Wine-Buses constitutes an inseparable element, thanks to which you can visit one of the local vineyards by special buses. There winemakers talk about their vineyards, viticulture, showing their guests around their property. Thus, visitors have a chance to get to know winemakers' work inside out. The price of the visit also contains local wine tasting.
Winobranie Wine Festival Parade
The traditional Winobranie Wine Festival Parade, which dates back to the last century, ceremonially sums up the holiday of Zielona Góra and takes place on the second Saturday of the Winobranie Wine Festival, at noon. Each year, it is variously themed. The local winemakers and artists, schools, as well as the residents of Zielona Góra take part in it, strolling down the main streets of the city in colourful disguises, in the rhythm of music and in the company of artwork. One thing is sure – the Winobranie Wine Festival is the most exciting week of a year in Zielona Góra, full of entertainment of all stripes, good joy and celebration of the restoring winemaking tradition.
The programme of the Winobranie Wine Festival is available below:
---